Design by Laney
Greensboro, North Carolina


If there's one thing you learn (quickly!) when you get engaged, it's that there are endless choices when it comes to nearly every single aspect of wedding design—and the same rings true as ever when it comes to wedding calligraphy. In recent years, stationery options have increased ten-fold to reflect the rise in popularity of casual, modern, personality-filled weddings—so, wedding calligraphy isn't exactly just one-size-fits-all fancy cursive anymore. From tall, towering letters to wide, winding, whimsical ones, there happen to be a ton of different wedding calligraphy styles to choose from these days. To help you as begin to build your wedding stationery suite, then, we brought in lettering guru Laney Schenk from Design by Laney Custom Invitations & Calligraphy to talk some of her signature wedding calligraphy styles. Read on...and get ready to fall in love with the art of lettering.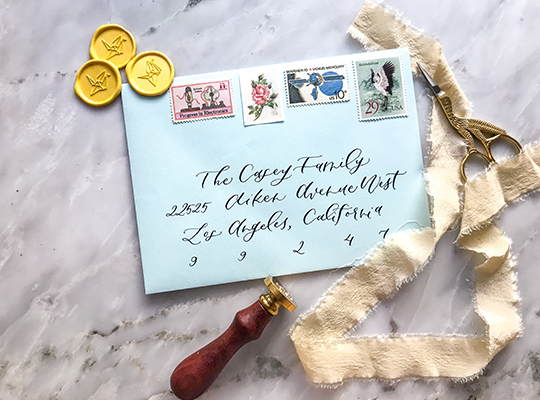 On the Blue Sample...
Full, modern calligraphy addresses are the Design by Laney signature! This look is romantic and organic, and is sure to make your envelopes stand out in the mailbox. "Modern" calligraphy has that fun, bouncy vibe that makes each address look completely unique. A calligraphed envelope (even in a playful, modern style like this one) works to set the tone that your wedding will be a luxurious, personalized experience, with a little extra attention to detail—your guests will feel like they're unwrapping a present from the very beginning!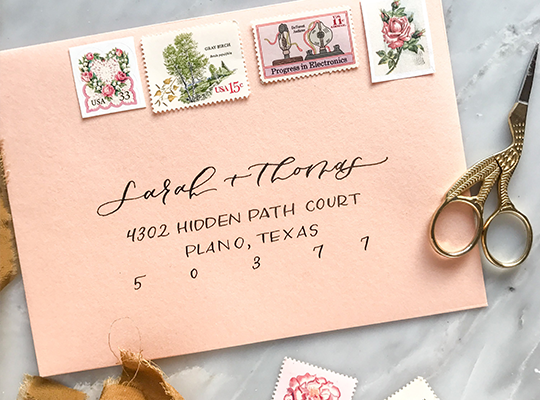 On the Peach Sample...
A little mix-and-match goes a long way with your calligraphy addresses! In this style, we've combined names in our signature modern calligraphy style with printed block letters beneath to keep the addresses elegant and simple. This works to put focus on the names while creating a sophisticated-yet-playful balance between oh-so romantic (scrolling calligraphy) and super sleek (simple block letters). This aesthetic is perfect for modern weddings.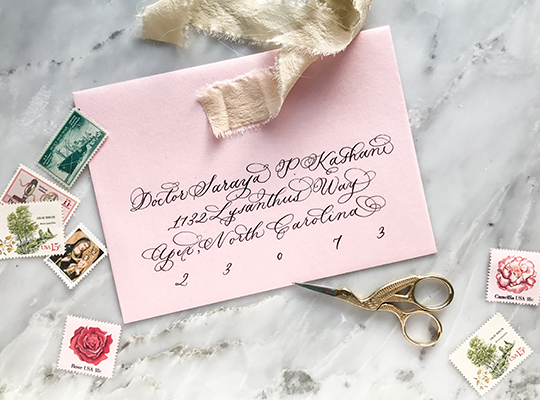 On the Pink Sample...
This style is more formal and evenly spaced, but with extra flourishes for added decoration and personality. I would use this style for a black-tie event, to let your guests that they are attending a classic, elegant wedding from the moment they check their mail. The key with a formal style such as this one is that all titles—including middle name or initial—are required to be included, and all addresses should follow formal, Emily Post-style wording (check out some of Laney's pro tips on wedding invite wording and etiquette here).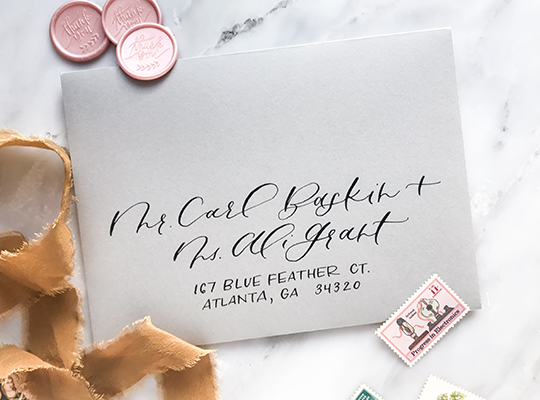 On the Gray Sample...
This envelope is fun, playful, and inviting—while placing a serious focus on the names of the invitees. Who doesn't love to see their name in giant, eye-catching calligraphy, after all? The casual addressing style here also minimizes the need for any extra verbiage on the envelopes (you don't need to be as particular about things like including a middle initial as you would when using in the above calligraphy style, for example).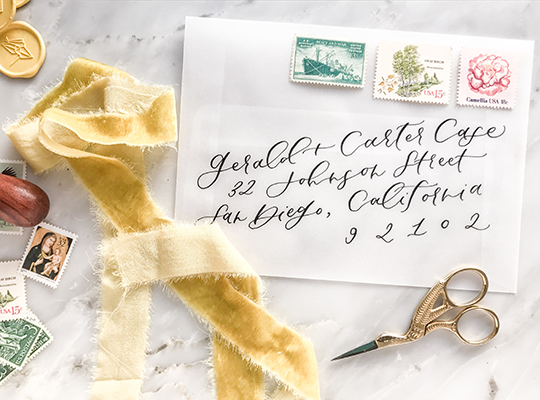 On the Vellum Sample...
Vellum envelopes are the clear choice for a unique invitation! (See what we did there?) The transparent nature of vellum envelopes allows you to show off your beautiful invitation artwork, or any extras that you decide to include inside (can you say confetti?!). The calligraphy style here is slanted to maximize the writing space on the envelope—just make sure you allow enough space in the top left corner for your stamps!
Overall, no matter what calligraphy style you choose, we always recommend having your envelopes hand-lettered for maximum impact. This helps to set the tone for your affair and creates a cohesive wedding aesthetic from the get-go. No matter the style of your wedding—chic and sophisticated, or personal and playful—we love working with lettering options to create a customized calligraphy style to suit your style and your soirée. Reach out to Design by Laney today if you're ready to get started crafting those killer invites!