Is there anything more tear-jerking than a great wedding ceremony? As lifelong wedding planners, we happen to think not. The key to a great ceremony, though, is putting some time and thought into your script and vows. We love the idea of looking to literature for passages and poems that speak to your love story. For a personal touch, consider having some of your closest family members and friends read your favorites during the ceremony. From Ernest Hemingway to Joan Didion, we've rounded up some of our favorite wedding ceremony readings about love below. Read on to find the perfect passage, poem or quote (with a box of Kleenex by your side)!

1. From A farewell to Arms by Ernest Hemingway
"At night, there was the feeling that we had come home, feeling no longer alone, waking in the night to find the other one there, and not gone away; all other things were unreal. We slept when we were tired and if we woke the other one woke too so one was not alone. Often a man wishes to be alone and a woman wishes to be alone too and if they love each other they are jealous of that in each other, but I can truly say we never felt that. We could feel alone when we were together, alone against the others. We were never lonely and never afraid when we were together."

2. From Corelli's Mandolin by Louis de Bernières
"When you fall in love, it is a temporary madness. It erupts like an earthquake, and then it subsides. And when it subsides, you have to make a decision. You have to work out whether your roots are to become so entwined together that it is inconceivable that you should ever part. Because this is what love is. Love is not breathlessness, it is not excitement, it is not the desire to mate every second of the day. It is not lying awake at night imagining that he is kissing every part of your body. No … don't blush. I am telling you some truths. For that is just being in love; which any of us can convince ourselves we are. Love itself is what is left over, when being in love has burned away. Doesn't sound very exciting, does it? But it is!"

3. William Faulkner on Love
"You don't love because: you love despite; not for the virtues, but despite the faults."

4. From The Princess Bride by William Goldman
"Do I love you? My God, if your love were a grain of sand, mine would be a universe of beaches… I have stayed these years in my hovel because of you. I have taught myself languages because of you. I have made my body strong because I thought you might be pleased by a strong body. I have lived my life with only the prayer that some sudden dawn you might glance in my direction. I have not known a moment in years when the sight of you did not send my heart careening against my rib cage. I have not known a night when your visage did not accompany me to sleep. There has not been a morning when you did not flutter behind my waking eyelids…"

5. From Battleborn, by Claire Vaye Watkins
"I said, 'You should marry her in a church.'"

"'Don't you know?' Eroll said. The rain had stopped now, leaving all the leaves and the soil wet and fragrant and colored vividly. 'This is the greatest church there is.'"

6. E.E. Cummings on Love
"Love is the voice under all silences, the hope which has no opposite in fear; the strength so strong mere force is feebleness: the truth more first than sun, more last than star."

7. From The Great Gatsby by F. Scott Fitzgerald
"He knew that when he kissed this girl, and forever wed his unutterable visions to her perishable breath, his mind would never romp again like the mind of God. So he waited, listening for a moment longer to the tuning-fork that had been struck upon a star. Then he kissed her. At his lips' touch she blossomed for him like a flower and the incarnation was complete."

8. From Wild Awake by Hilary T. Smith
"People are like cities: We all have alleys and gardens and secret rooftops and places where daisies sprout between the sidewalk cracks, but most of the time all we let each other see is a postcard glimpse of a skyline or a polished square. Love lets you find those hidden places in another person, even the ones they didn't know were there, even the ones they wouldn't have thought to call beautiful themselves."

9. From Stop All the Clocks by W. H. Auden
"He was my North, my South, my East and West, My working week and my Sunday rest."

10. From Adam Bede by George Eliot
"What greater thing is there for two human souls, than to feel that they are joined for life--to strengthen each other in all labour, to rest on each other in all sorrow, to minister to each other in all pain, to be one with each other in silent unspeakable memories at the moment of the last parting?"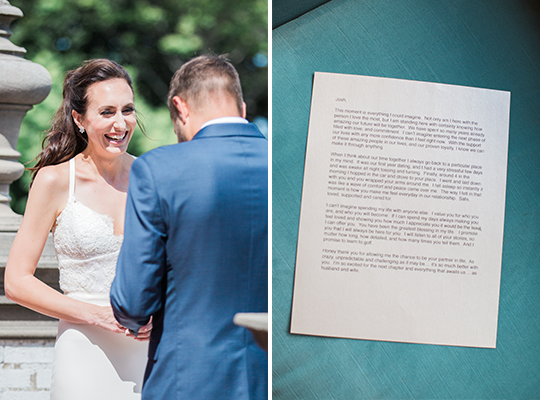 11. From The Year of Magical Thinking by Joan Didion
"I did not always think he was right, nor did he always think I was right, but we were each the person the other trusted."

12. From Our Mutual Friend by Charles Dickens
"You know what I am going to say. I love you. What other men may mean when they use that expression, I cannot tell; what I mean is, that I am under the influence of some tremendous attraction which I have resisted in vain, and which overmasters me. You could draw me to fire, you could draw me to water, you could draw me to the gallows, you could draw me to any death, you could draw me to anything I have most avoided, you could draw me to any exposure and disgrace. This and the confusion of my thoughts, so that I am fit for nothing, is what I mean by your being the ruin of me. But if you would return a favourable answer to my offer of myself in marringe, you could draw me to any good – every good – with equal force."

13. From Blue-Eyed Devil by Lisa Kleypas
"I was beginning to believe that a very few times in your life, if you were lucky, you might meet someone who was exactly right for you. Not because he was perfect, or because you were, but because your combined flaws were arranged in a way that allowed two separate beings to hinge together."

14. From Les Misérables, by Victor Hugo
"What Is Love? I have met in the streets a very poor young man who was in love. His hat was old, his coat worn, the water passed through his shoes and the stars through his soul"

15. From The Clod and The Pebble by William Blake
"Love seeketh not itself to please, Nor for itself hath any care; But for another gives its ease, And builds a Heaven in Hell's despair."

16. Love's Philosophy by Percy Bysshe Shelley
The fountains mingle with the river
And the rivers with the ocean,
The winds of heaven mix for ever
With a sweet emotion;
Nothing in the world is single;
All things by a law divine
In one spirit meet and mingle.
Why not I with thine?—

See the mountains kiss high heaven
And the waves clasp one another;
No sister-flower would be forgiven
If it disdained its brother;
And the sunlight clasps the earth
And the moonbeams kiss the sea:
What is all this sweet work worth
If thou kiss not me?

17. From Les Misérables, by Victor Hugo
"When love has fused and mingled two beings in a sacred and angelic unity, the secret of life has been discovered so far as they are concerned; they are no longer anything more than the two boundaries of the same destiny; they are no longer anything but the two wings of the same spirit. Love, soar."

18. From Everyday by David Levithan
"This is what love does: It makes you want to rewrite the world. It makes you want to choose the characters, build the scenery, guide the plot. The person you love sits across from you, and you want to do everything in your power to make it possible, endlessly possible. And when it's just the two of you, alone in a room, you can pretend that this is how it is, this is how it will be."

19. From A History of Love by Nicole Krauss
"Once upon a time, there was a boy. He lived in a village that no longer exists, in a house that no longer exists, on the edge of a field that no longer exists, where everything was discovered, and everything was possible. A stick could be a sword, a pebble could be a diamond, a tree, a castle. Once upon a time, there was a boy who lived in a house across the field, from a girl who no longer exists. They made up a thousand games. She was queen and he was king. In the autumn light her hair shone like a crown. They collected the world in small handfuls, and when the sky grew dark, and they parted with leaves in their hair.
Once upon a time there was a boy who loved a girl, and her laughter was a question he wanted to spend his whole life answering."
20. From Allegiant by Veronica Roth
"I fell in love with him. But I don't just stay with him by default as if there's no one else available to me. I stay with him because I choose to, every day that I wake up, every day that we fight or lie to each other or disappoint each other. I choose him over and over again, and he chooses me."

Photos courtesy Milwaukee wedding photographer Autumn Silva Photography