When it comes to wedding dinner service options, the choices these days are endless. From plated affairs to family-style meals to stunning food stations, engaged couples have such a wide array of options to choose from when planning the fare for their affair. Gone are the days when design was the only way to customize a wedding—with talented caterers and creative dining options abound, more and more couples are choosing to work their personality into their wedding via the most important event vehicle of them all: food. To help you choose which wedding dinner service option is right for your Big Day, then, we've tapped the creative culinary mind of Nicole Dryden, the director of events at Truffleberry Market, a customized catering company with a focus on crafting bespoke plates. Read on for her take on plated affairs, food stations, and family-style dinners (and, when your mouth starts to water, don't say we didn't warn you).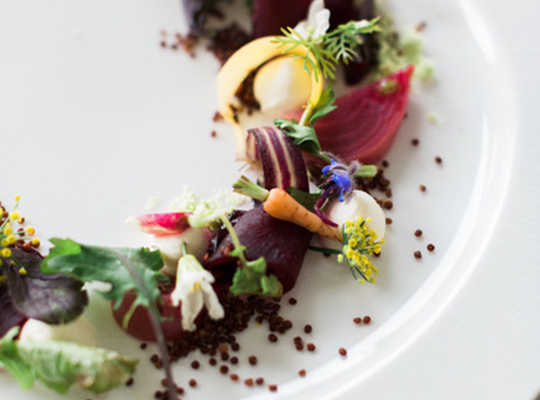 Photo courtesy Aimee Mazzenga
Plated
The meticulousness of a plated dish is still one of our favorite ways to articulate a client's food style. Whether it's farm-to-table or avant garde, our chef's are able to express an overall vision composed in a way that is not only visually impressive, but also profoundly delicious. In that moment, they are creating an edible work of art for the guests to experience—with each plate as their canvas. Guests have a chance to have this orchestrated food experience very much together, but at the same time in their own individual place. Seated dinner service has a formality to it that feels innately special.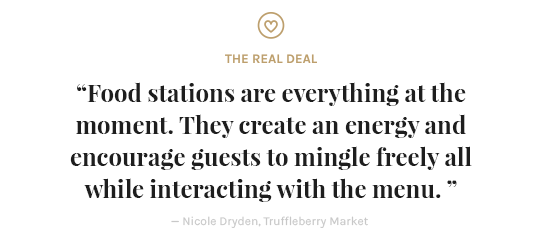 Food Stations
Food stations are everything at the moment. They create an energy of movement, encouraging guests to mingle freely while introducing an element of interactivity with the menu. They do something to it…it does something to them. Including stationary menu items allows for so much variety and personality—whether all of them are theme-cohesive or each one evokes a different style all together. It's an incredible way to keep the energy high and flowing, like mini pop-up art exhibits. One of our favorite uses of presentation space is building up and styling vertically. Whether stacking in a modular way or suspending in air, we want that "Not sure if I have to take a photo of this or eat this first!" reaction.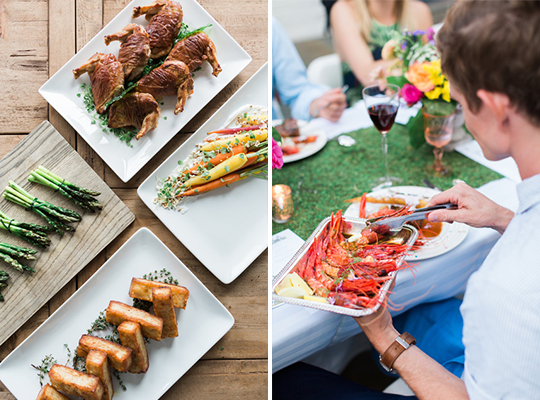 Photo courtesy Aimee Mazzenga
Family-Style
Family-style service is the perfect format when clients envision their guests enjoying a seated dining moment with a more communal feel. There is vibrant energy and conversation while the guests interact with the platters they are passing. Everyone is able to enjoy a seated dining experience in a more relaxed way that encourages mingling and conversation and allows each guest to customize their plate while still experiencing the whole menu. Elements of more formal dining can be included or excluded—butlered bread service and a plated dessert can bookend selections of beautifully presented menu items on platters and boards. There is something uniquely special about the feel of communally breaking bread alongside your guests.