We love a gorgeous gown as much as the next wedding planner, and, as far as we're concerned, there's no better place to wedding-dress shop than BHLDN. Plus, with occasion dresses perfect for your rehearsal dinner or engagement party, gorgeous bridesmaids gowns, and dreamy-as-ever accessories, you can often find everything you need for you and your bride tribe's complete wedding-day look at one of BHLDN's 16 locations. Today, then, we wanted to break down the ins-and-outs of the BHLDN wedding-dress shopping experience for brides looking to turn some serious heads during their walk down the aisle.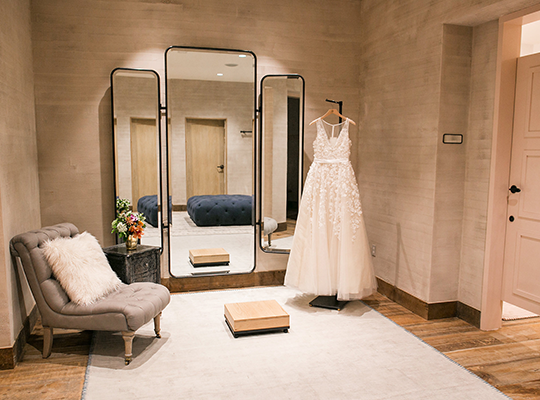 1. Do you need an appointment to try on wedding gowns at BHLDN?
Yes—in order to try on gowns, you'll need to make an appointment. You can make a BHLDN appointment here, or by visiting individual store location pages. While you don't necessarily need an appointment to shop for bridesmaids dresses, the team at BHLDN definitely recommends you make one to ensure you and your bride tribe are well taken care of while you're there. Be sure to call the store in advance if you have a bridal party of five or more.

2. How far in advance should I schedule my appointment?
BHLDN is a pretty darn popular options for modern brides—after all, no one offers an aesthetic quite as stunning as theirs. So, be sure you schedule your appointment at least six months prior to your wedding date—but the sooner, the better. You also want to make sure you leave plenty of time for any alterations you'll need (these can sometimes take longer—or require more rounds—than expected). If stores near you are all booked up, you can also call and request to be placed on an appointment wait-list.

3. What should I do to prepare for my appointment?
One hour in a store as dreamy as BHLDN will fly by, so be sure you've done your research ahead of time. If you have one gown you've been stalking online, make sure you let your stylist know in advance so she can pull that gown for you and/or ensure it's available at the store location you'll be visiting. Make sure you bring your own nude undergarments or shapewear. Bringing a few different bra options with you (strapless, cross-back, front adhesive cups, etc.) is also a great idea if you want to try on gowns with different bodice shapes. You may also want to bring along a pair of shoes of your desired height and a hair-clip or tie to get a feel for what an updo will look like with your dream gown.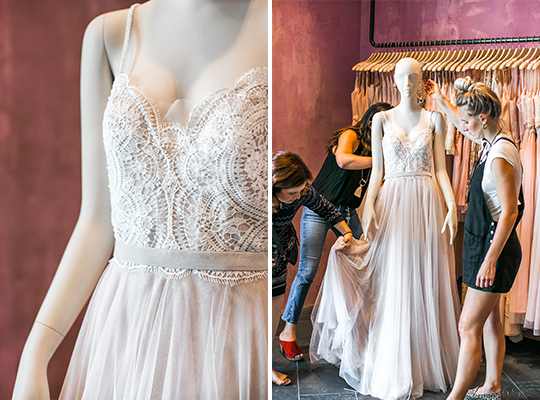 4. What's an appointment at BHLDN like?
Well, it starts with amazing service from your own personal stylist! Your appointment time will be booked for one full hour, during which you'll receive 45 minutes of one-on-one assistance and guidance from one of BHLDN's chic-as-ever stylists in a private salon area. Your stylist will offer everything from sizing advice to accessory recommendations. She can even pull samples you may request ahead of time (as long as they're available). While BHLDN asks you don't bring your own wine or champagne (spills-ville on white gowns is a real problem, people!), the BHLDN team is happy to provide you and your tribe refreshments upon request.
5. What if stores near me are booked up? Are there any other options besides an in-person appointment?
Absolutely! We love that BHLDN also offers expert stylist consultations via phone and email (major score!). You can contact a BHLDN stylist here. She'll be able to answer any questions you may have about different gowns as well as provide styling and accessory advice. Just be sure you get measured by a professional tailor and use the BHLDN size guide if you're ordering a BHLDN gown online without trying it on in-store.
*In the spirit of full disclosure, this post contains affiliate links, which means we may get commissions if you decide to purchase anything from any of these companies. We only recommend products that we love ourselves and that we think you'll love, too.

Photos courtesy San Diego wedding photographer Petula Pea