Fogcutter Catering
San Francisco, CA



Wedding food can be tricky—you want to balance that fine line between choosing popular items that will please everyone, yet not selecting tired, lifeless, been-done-one-thousand-times-before dishes. Don't get us wrong—we love a good steak-and-caesar combo as much as the next invited guest, but we also happen to think you can do so much better than boring, been-there-done-that wedding day fare. (Say it with us: "I can do better than a steak and caesar!").
Food, in fact, happens to be one of the best places to step up your wedding planning game, as most guests will arrive expecting typical wedding food (which, let's face it, can be subpar at best). So, surprising guests with out-of-the-box dishes and super pretty plates (that taste like heaven) is such a nice treat for friends and family. Today, then, we've sat down with the brilliant minds behind San Francisco caterer Fogcutter to talk wedding day dishes that are sure to wow. Sharpen that cutlery and kiss an overcooked filet goodbye—Fogcutter Catering has rounded up three of their favorite wedding foods that are sure to please even the pickiest of taste buds.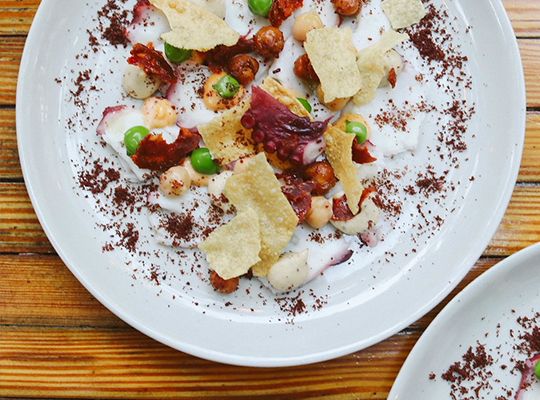 Photo courtesy Napa photographer Meg Smith

Out-of-the-Box Appetizer: Octopus
We love octopus, but many clients aren't familiar with it, or think it's too unique for guests who may want something safer. A great way to work a plate like this into your wedding, then, is to serve this as a first course to strike a fun and adventurous note, but then keep your main course family-style and approachable. We love the Spanish approach to squid and octopus, which is often served with chickpeas and chorizo—along with dots of spicy espelette aioli for fat, tangy sumac, and fried papadum crisps. The final dish here came out really balanced and full-flavored, and was an absolute hit with wedding guests (even the less adventurous ones).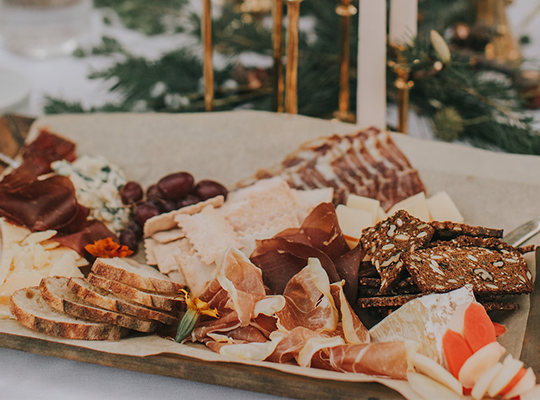 Photo courtesy Kindred

Crowd-Pleasing and Pretty: Charcuterie
You really can't go wrong with charcuterie at a wedding—if executed well, the flavor combos can be addicting, and it's also a plate that's as pleasing to the eye as they come. In this particular instance, our bride and groom wanted their whole wedding to be a food-focused, intimate affair. Instead of offering a cheese and charcuterie station during happy hour, then, we welcomed guests to dinner with smaller boards placed on each table. It was a fun and delicious way for guests to settle into dinner—they were able to chat, enjoy a little local cheese, and finish their cocktail before the rest of the family-style meal.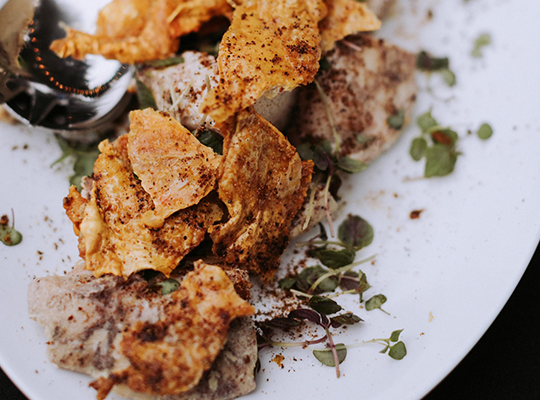 Photo courtesy San Francisco photographer Andria Lo

Approachable-yet-Adventurous Main: Chicken
You main course should be something approachable, but that doesn't mean it has to be boring. One of our signature mains is our sous vide chicken with crispy skin, preserved meyer lemon, and sumac. It took our chef Guillermo a little trial-and-error to figure out a way to prepare chicken for a large number of people while keeping the meat super tender and the skin crispy. The solution—removing the skin from the chicken before it's cooked, and baking it in the oven to create these insanely addictive and delicious crispy skin chips. We sous vide the chicken meat, which keeps it super flavorful and juicy, and top with these gorgeous little chips for an umami punch!
Overall, there are so many ways to ensure your wedding day food is both approachable and adventurous. It all comes down to using seasoned caterers who know how to work with rare ingredients (like octopus) and how to spice up typical, everyday meats and mains with sophisticated seasoning and creative plating. Brides and grooms often overlook wedding food and turn their attention toward decor or floral instead, but we happen to think there's so much fun to be had in crafting up unique, personalized, unforgettable dishes for your guests.