We're huge fans of customization at weddings—after all, if you can't personalize design details on your Big Day, when can you? One of our favorite ways to add a creative, personal touch to stunning soirées, then, is through custom monograms. They act just like a logo for your event, and really help to brand the affair. With the popularity of wedding monograms on the rise, we wanted to break down 6 creative ways to work them into your nuptials. Read on for some serious inspo.

1. Paper Goods
Sure, you've seen monograms on stationary suites and wedding invitations for years—but we invite you to think beyond the invitation and consider having a custom stamp made with your monogram. It's a budget-friendly way to work the monogram into tons of different paper goods at your wedding (stamp tags and attach them to your wedding favors, have a return-address stamp made with your monogram and stamp your envelopes, stamp brown paper "to-go" bags at your dessert bar for guests to fill, etc.). We also love the idea of having a custom wax seal made with your monogram—the added texture and depth will really take those invites to the next level. Got a graphic designer handy? Have your monogram made into a pretty pattern that you can use on envelope liners or as a photo-booth backdrop.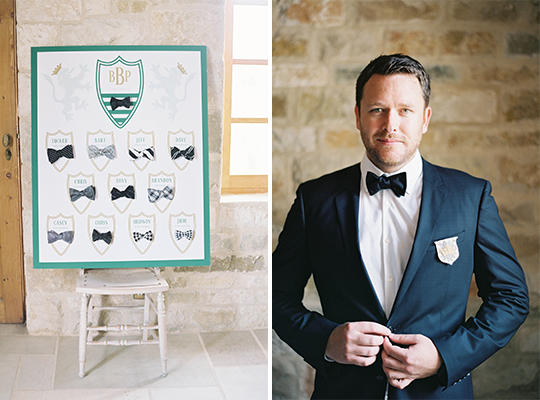 2. Wedding Signage
Wedding signage can be an often-overlooked place to include your monogram. Whether your signage is on paper, wood or even acrylic, have a designer work your monogram into the design. It doesn't have to be the main focal point of your signs, but it should act as a branding tool to help unify signage throughout—remember: monograms act as event logos, so, by including yours consistently on your wedding signage, guests will notice the signs are for your soirée right away.

3. Custom Desserts
Ah, technology. We may not have flying cars or hoverboards that actually hover (yet), but we do have the ability to print on cookies, donuts and cakes...and we happen to think that's (almost) as cool. We love the idea of branding your dessert bar—think custom-printed cupcakes, branded cookies, etc.—with that custom monogram of yours. Bonus: guests will be super impressed by your sugary surprise, and your desserts will likely get lots of social media love as a result.

4. Cake Topper
In modern weddings, many couples are choosing to forego cake toppers, as most couples think of the classic plastic "bride and groom" topper we so often used to see. But, not all cake toppers have to be cheesy—we love the idea of having your monogram made into a sleek-and-chic top-tier topper. Have it printed on a metallic plastic, or make it edible by having a seasoned baker design your monogram using sugar or caramel that hardens into a design that can stand on its own.

5. At the Bar
From cocktail napkins to coasters to champagne flutes, there are tons of ways to work your monogram into your wedding guests' favorite area—the bar. Plus, pricing can be super flexible depending on how far you take it. For a budget-friendly option, have stickers printed with your monogram and use these on disposable cups. For a more indulgent option, have glassware custom-etched.

6. "Blooming Monogram"
Perhaps one of our all-time favorite ways to work your monogram into your wedding is through the florals. We love (LOVE) a great blooming monogram. They make for stunning photo ops and feel so fairytale-like in real life. Display them near the entrance to your ceremony or even at the altar itself—and then have your wedding planner move them to the reception area so they can work a double-shift for you and your budget. Use them as a backdrop for your photobooth, as a display in front of your sweetheart table, or even suspended over the dance floor for a fun, whimsical effect.

Photography by Jen Huang Photography
Wedding planner LVL Weddings & Events