There was a time when every other recommendation was "it's the bride's day" and then unfortunately quite often we saw "the dawn of Bridezilla". Not only on TV, but also played out in real life in weddings across the country. Over time, the wedding industry started seeing grooms more intimately involved in the wedding process. Coupled with the visibility of more same sex weddings, the dialogue became more and more about personalization.
The mantra of personalization still rings true but it is paired with a new focus on guest experience; the simple act of being a great host and sharing your lives and personality with the people you love who are attending your wedding. Here are three wedding planning mistakes guests hate and advice to avoid them.
What To Do
In certain cases, houses of worship only offer weddings at 11am, 1pm and 3pm. The problem with these times is that hosting a 5pm wedding reception leaves A LOT of downtime in between. Having your wedding at 11 or 1 with a reception at 5 may frustrate guests, which could influence your guests to consider skipping the wedding ceremony all together and only attend the reception.
Sometimes choosing the early ceremony time is unavoidable, but appropriate planning can keep your guests happy. A simple "Our Favorite Things" list in your guests welcome bag with some of your favorite local bars, restaurants, boutiques or attractions gives them something to do to fill a few hours.
We saw one couple who hired a local tour company to pick up out of town guests at the church for a sightseeing tour of the local historical attractions.
Another amazing option might be to consider a brunch reception, moving from ceremony to a fabulous reception with some of your favorite breakfast foods, Bloody Marys' and Mimosas. (Psst... we share the most common wedding ceremony mistakes and how to avoid them here.)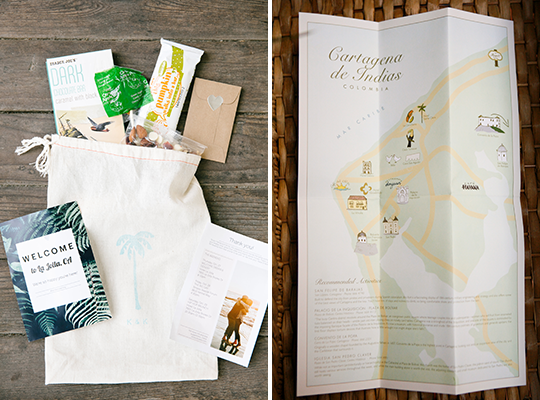 Photo courtesy Jenn Emerling Photography (left) and Belathée Photography (right)
Tell Me More
The second very common guest complaint is couples not providing enough information. It is important to work with your wedding venue to provide appropriate signage so that guests know where they are going.
If your wedding is at a beach resort, be clear if your ceremony is on the beach. Knowing that your wedding reception is outside on an open lawn allows guests to plan for appropriate footwear, sun protection, and maybe a light sweater for later in the evening.
Hangry Guests
Few things frustrate guests as much as when they get hangry. In many cases, guests have been traveling part of the afternoon, attended your wedding ceremony and now it's nearing dinner time. They have started to watch for the server at your cocktail reception to get the last mini quiche on his tray or they are standing near the kitchen door rushing the next server coming out.
Skimping on food for your cocktail reception is not winning you any friends. You might want to up the budget a little to increase the amount of food at your cocktail reception.
A stationary food display with substantial food can help keep hangry guests from stalking servers. Incorporating small plate hors d'oeuvres of your favorite comfort foods adds personality and feeds the masses.
Your wedding day is one of the first in a long line of parties and events you will host for family and friends, and creating a warm, comfortable guest experience is sure to brand you as wonderful hosts.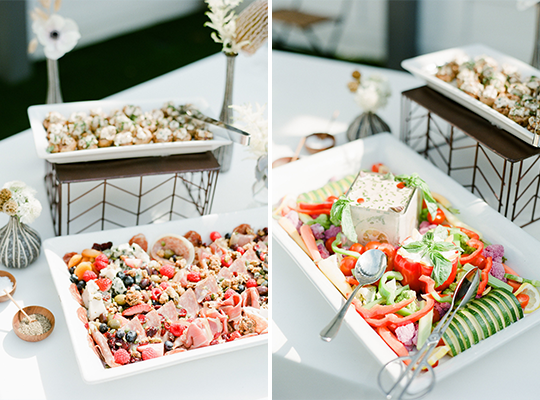 Photo courtesy The Happy Bloom

Hero photo courtesy 2 Brides