There are few things we love more than an ambitious couple—but, as lifelong wedding planners, we've seen all the DIY disasters there are to see when it comes to couples thinking they can handle all of the heavy lifting a wedding requires. While we're all about an entrepreneurial spirit and saving on budget where you can, we're also realists—and it breaks our heart to see weddings gone wrong when a couple had nothing but the best intentions for their soirée. Today, then, we're breaking down some tips and tricks for DIYing and not DIYing your wedding—we've rounded up decades of experience to bring you the ultimate list of What to DIY and What Not to DIY for your Big Day. Read on, and get ready to breathe a sigh of relief when crisis after crisis is averted.
A Word of Advice
Before we get into our list, we wanted to start with a word of advice—be realistic. With emotions running high and excitement through the roof, it can be easy to see a stunning image on Pinterest and think We can do that! And, while we don't want to deter you from living your wedding-day dreams, we also don't want you to have unrealistic expectations that you'll be able to create a flower arch as lush and gorgeous as the one you Pinned late last night. Pinterest (and other DIY sites) have a way of making things sound much easier than they actually are (any woman who's tried to waterfall-fishtail her hair knows that)—so be sure to think long and hard about what you have the skillset, time and (most importantly) energy to pull off.
What's OK to DIY For Your Wedding:
Favors: Feel free to DIY your wedding favors, especially if they're simple. Just be sure to do so far in advance (provided they're not perishable), so you're not up against the clock during crunch time (the days leading up to your wedding). You can find super cute custom stamps on Etsy to help brand your favors with handmade, hand-stamped tags or brown paper bags.
Welcome Bags: Welcome bags are also a safe-bet when it comes to DIYing. Having a tropical destination wedding? Try ordering custom beach towels and some of your favorite local after-sun lotion to throw in your guests' arrival bag. As long as items aren't perishable, you can put these together ahead of time and, for a destination wedding, ship them in advance to the hotel.
Wedding Signs: Fancy yourself a creative person? Go on a hunt for reclaimed wood and enlist that friend of yours with the perfect handwriting to create welcome and directional signs. If you're having a photobooth at your wedding, we also love the idea of creating some signs for guests to hold as props while they're snapping pictures—these can even be funny or quirky (at our wedding, we had our calligrapher make signs that boasted Beyoncé lyrics—I've been drinking. Watermelon. and Cake by the Pound—as part of our photobooth props, and they were a huge hit).

Additional Desserts: While you should never try to DIY your wedding cake (we'll get to that later), additional desserts are a great thing to DIY—and they can be the perfect place to get family involved. We recently attended an Italian wedding where the mother of the bride made her famous family-recipe biscotti. A biscotti bar was setup near the cake, and the couple placed brown bags hand-stamped with their initials, along with a sign that instructed guests to take home extra biscotti, near the biscotti bar.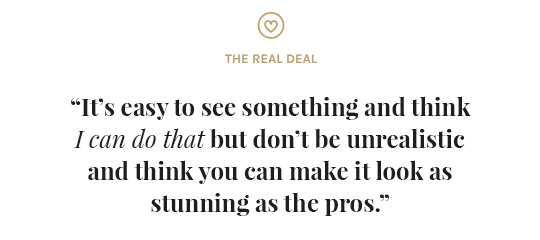 What's Not OK to DIY For Your Wedding:
Catering: This is a biggie. It can be easy to think that, just because you're a foodie or cook great meals at home, you're able to provide catering for your wedding. This is not exactly the case. The work that goes into catering a large-scale affair is something that should be left to professionals. You also want to consider the importance of food-handling laws and issues with allergies—you don't want to be responsible for getting guests sick or serving shrimp to someone with a serious shellfish allergy. (Trust us, we've seen this happen, and it's not pretty.)
Floral Arrangements: With the popularity of Pinterest on the rise, we're starting to see more and more brides who want to DIY their floral arrangements. But, if you've ever received a massive arrangement as a gift, you've probably realized—when you went to deconstruct those wilted flowers—that beautiful arrangements are so much more than just flowers and a vase with some water. I recently received a huge arrangement of sunflowers and succulents for my birthday and, upon tearing it down once the arrangement had wilted, found: twine, two different types of tape, rubber bands, wire and styrofoam. (Needless to say, it took me over an hour to deconstruct it, and my mind was blown at the work that had gone into putting it together—it was an engineering feat to say the least!) Getting flowers to sit and look the way you want them to takes some serious skill—and we can't stress enough the importance of leaving the floral arrangements to a professional florist. A major perk: A florist will be able to get industry discounts on blooms and stems, so you might actually end up paying less to hire a professional than you would trying to collect all of the flowers and fillers you need on your own.
Your Cake: Binging on Food Network and thinking you're ready to bake a three-tiered cake as a result is something that's happened to the best of us—but we can assure you, you are not a professional baker (unless you are, in which case, have at it). We understand why DIYing your cake is tempting—cakes are pretty and sweet and decadent and all of the irresistible things in life rolled into one—but they are best left to the professionals. Considering they can't be made too far in advance, you certainly don't want to be stuck DIYing your cake the night before your wedding—and don't even get us started on the hazards that come along with attempting to transport it to the venue.
Custom Invitations: Unless you're a professional graphic designer, we recommend shying away from DIYing your invitations. You certainly don't want to print them at home (again, unless you're a professional designer and have the right tools)—as the quality will be subpar to say the least. Instead, do your research and find a great local stationary shop or designer that you feel good about supporting.
Your Wedding Day Timeline: No matter how organized and on top of things you are, a timeline is best left to the professionals. After all, chances are this is the first wedding you've planned, which means you really have no idea how long setup actually takes or what time your caterer should arrive versus what time your DJ should arrive. Timelines are one of those things that so many couples overlook and/or try to throw together themselves—and the end result is unfortunately a disorganized, chaotic affair. You deserve a day of relaxation and celebration—you don't want to spend your morning running around checking on vendors when you should be spending it getting pampered for your Big Day. Work with a professional planner to help you finalize the details of your timeline. If your budget doesn't allow for a full-time wedding planner, at the very least, book a few consulting hours with one to help you nail this all-too-important detail down.

Photo courtesy Austin Trenholm
Catering by Tastes of Tampa Bay
Planning by Long Aisle Events