The beginning of your wedding weekend will often start with a ceremony rehearsal. It's a quick run-through of the processional, where to stand for the ceremony, and how to exit at the end. Keep reading for what to expect during a wedding rehearsal and a few pro tips to make sure things run smoothly.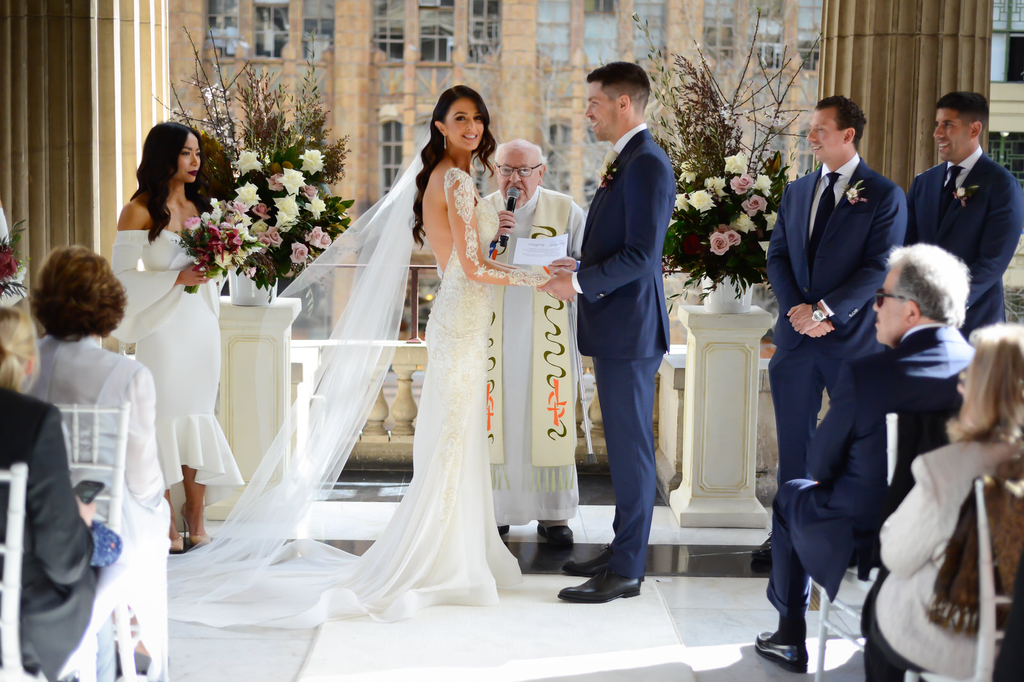 Photo Courtesy of Ateia
Who's In Charge?
If your wedding ceremony is being held in a house of worship, the officiant or their representative will greet everyone and organize the flow of the service. They'll typically line everyone up and walk through the details according to their traditional wedding ceremony practices. If your wedding ceremony is being held outside of a house of worship, then ideally, your wedding officiant has been contracted for the rehearsal as well. Knowing ahead of time how they like to organize the ceremony will only help to create smooth transitions for a seamless execution.
In most other cases, your wedding venue manager will run the rehearsal—as they know the property the best and how participants should start, stand, and finish. But, if you're working with an independent wedding planner, then they may be the one to run the rehearsal. Even if you have an officiant or venue manager for your rehearsal, you'll want your wedding planner to be there with you to answer any questions or concerns.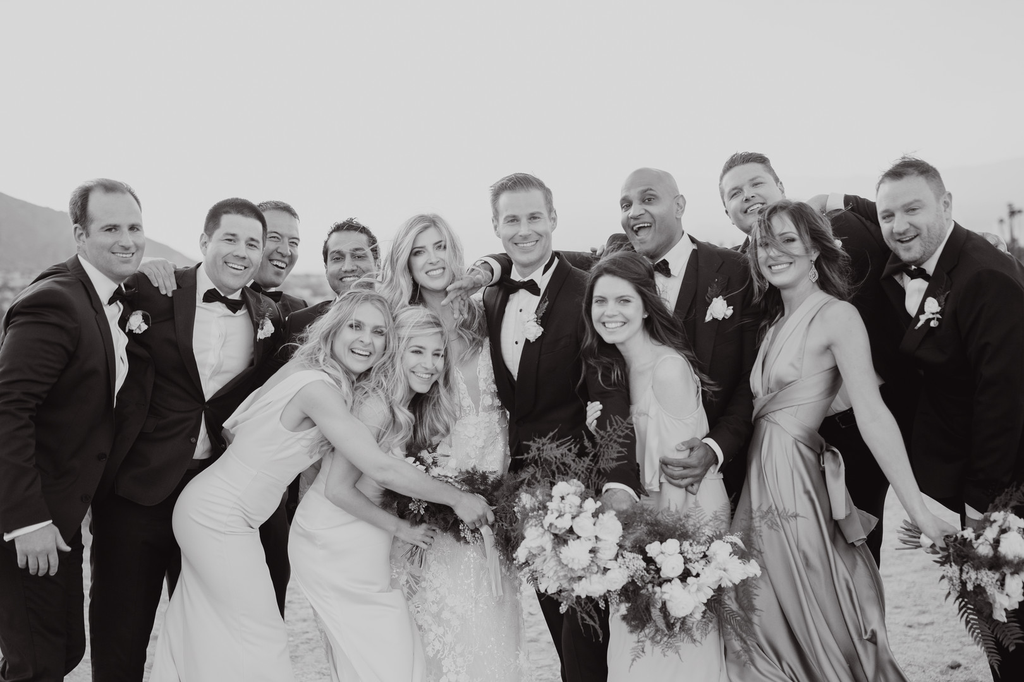 Photo Courtesy of Chard Photo
Who Needs To Be There?
Ideally, the couple, all members of the wedding party including any ring bearers or flower girls, parents, and the wedding officiant should all be at the wedding rehearsal. Don't sweat it if someone in the wedding party can't make it because of work or travel arrangements. A spouse, parent, or date of someone else in the wedding party can easily stand in to mark their space. Also, try to put them in the processional order where they're not the first person walking in.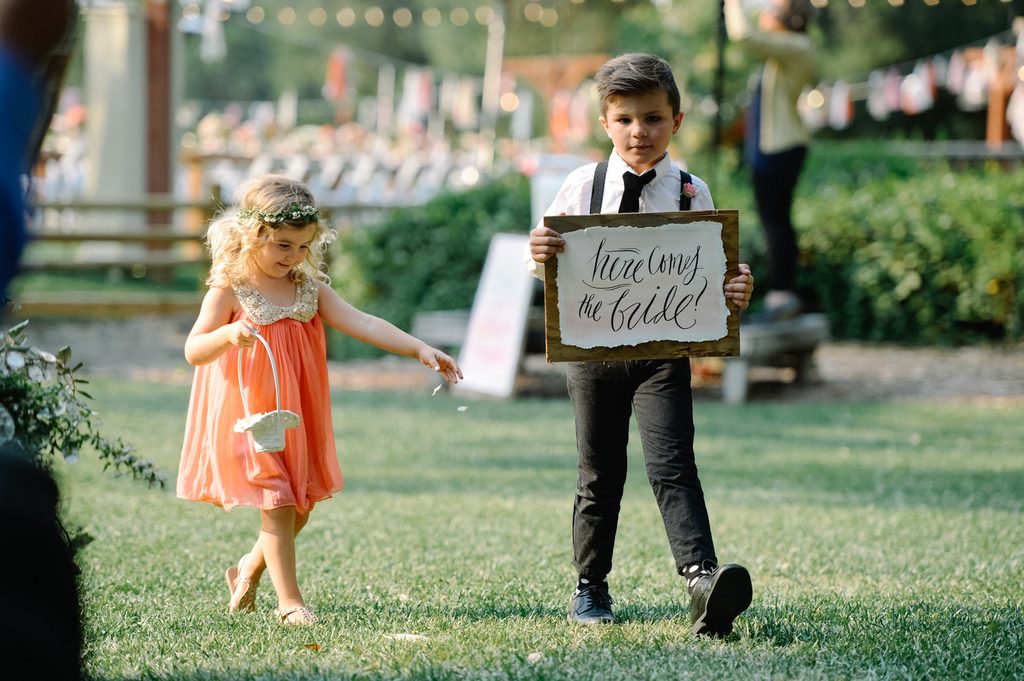 Photo Courtesy of Leo Cabal
How Long Will It Take?
The rehearsal should be scheduled for an hour. An experienced officiant or wedding planner can get everyone in and out in twenty minutes, but an hour allows for people running late, a second run through, and time for any questions. If you know someone who is ALWAYS late, you might want to tell them the start time is 10-15 minutes earlier. Some officiants are booked on an hourly basis, and you don't want to be billed for overtime or be late for your rehearsal dinner.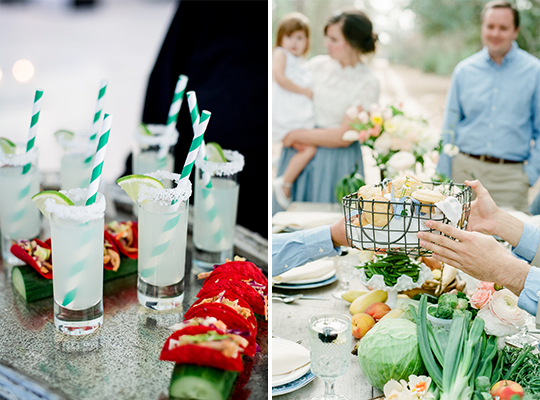 Photo Courtesy Julia Franzosa Photography (Left), The Happy Bloom (Right)
What Time Is Dinner?
Talk to your wedding venue and officiant well in advance of planning your rehearsal dinner. There are times when a venue is working around another wedding scheduled the night before yours. In that case, your rehearsal might have to be earlier in the day or even the morning of your wedding. If your scheduled rehearsal time is early in the evening the night before, allow for a full hour rehearsal and travel time to and from the venue before deciding on a dinner start time.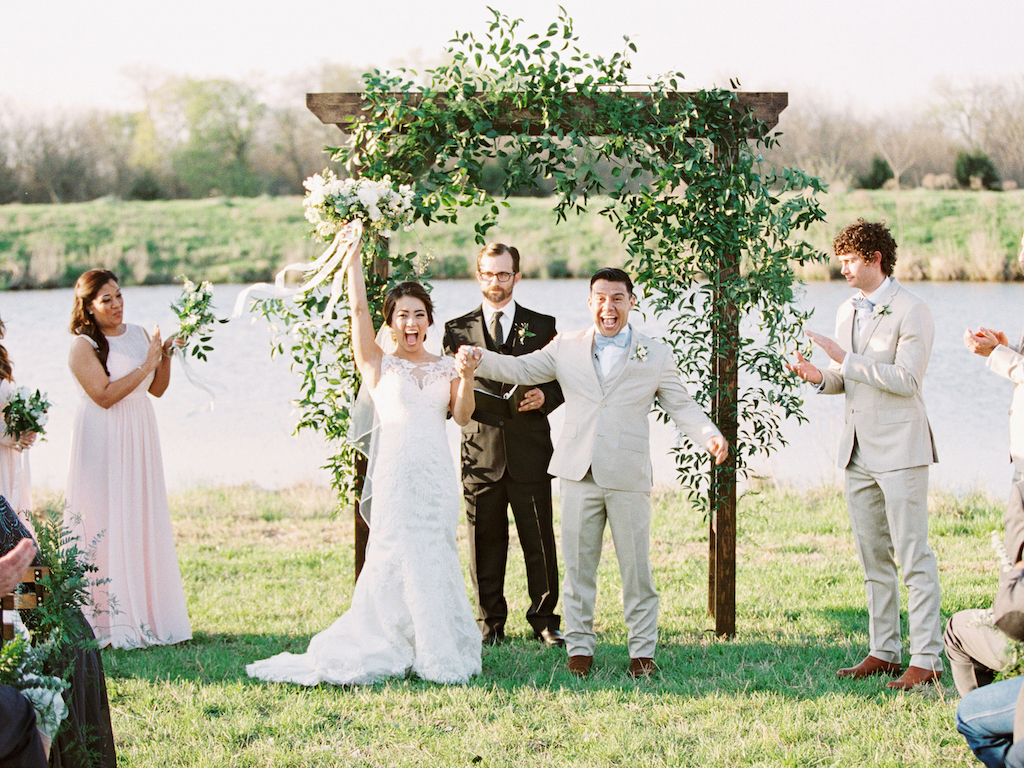 Photo Courtesy of Allan Tsai Photography
Practice Like A Pro
Here are some tips from wedding professionals to help make your rehearsal a breeze:
When everyone arrives, introduce the officiant, planner, or whoever will be running the rehearsal.

Start at the end! Begin the rehearsal with parents in their seats and you and the wedding party standing at the altar. This will eliminate any confusion about where to stand after walking down the aisle.
Ladies should stand with their flowers in front of them. Gentlemen should stand with hands folded in front of them, at their sides, or with hands behind their back.
Slightly bend your knees. Standing with your knees locked can cause you to sway or fall off balance.
There's no need to run through the entire wedding ceremony. If you read through everything, including your vows, you'll already be married!
Bring extra copies of any readings. Chances are your assigned readers won't bring them.
After running through the details, recess out. Turn everyone around and walk them back into their original places.
Despite what you might've seen in movies, walking left together, right together down the aisle looks odd. A slow walk, at a natural pace, works best.
Communicating with your wedding professionals about their needs and expectations in advance of the wedding will make sure your rehearsal and wedding day run flawlessly!

Hero Photo Courtesy of Tessa Tadlock