In the United States, Indian food has become more mainstream over the last decade or so. However, Indian culture, especially Indian weddings, is very foreign to many people. Much like the U.S., not all Indian weddings are the same. Hindus, Sikhs, Muslims, and even Catholics are part of that Indian culture. With over 500 Indian languages, weddings tend to be based on the region where the families originated. All of the weddings are steeped in tradition and are all about two families being bonded together. Here are seven essential things to know before attending your first Indian wedding:
1. An Auspicious Date
Indian couples rarely pick their wedding date, which is customary in the West. Auspicious dates are chosen for the couple based on their birth dates, astrological signs, and alignment of the stars. Auspicious dates are selected to ensure prosperity for the couple and their families.
2. A Three-Day Event
One of the most common fears among non-Indian guests is learning that a typical Indian wedding lasts three days. Fear not, as wedding guests you probably won't be participating in all of the wedding events.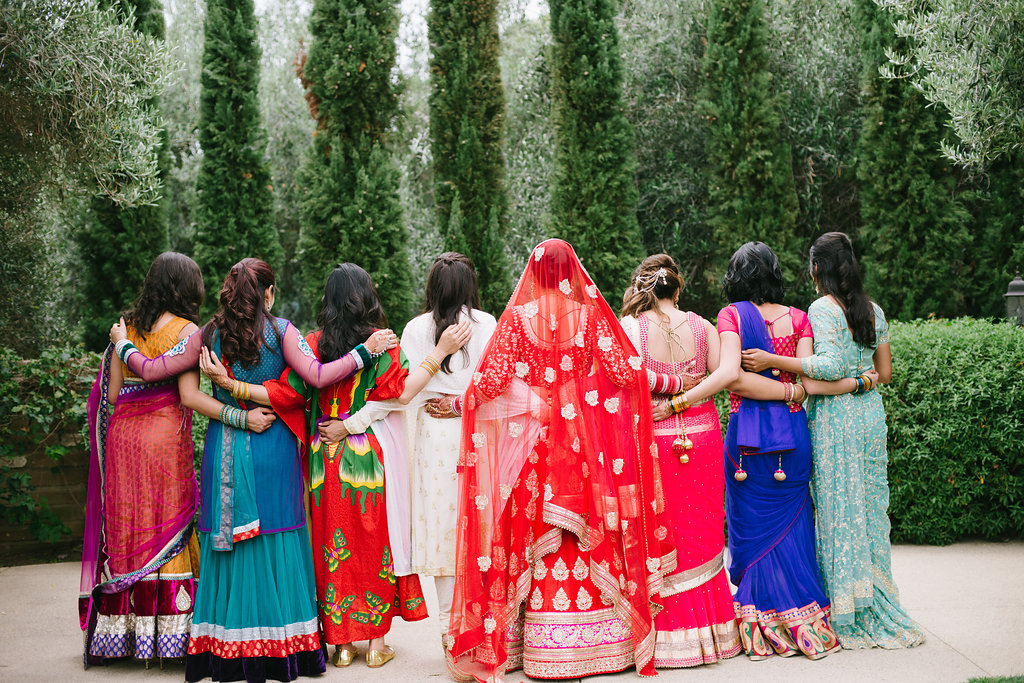 Photo courtesy: Jessica Kettle Photography
The first day is often a private family event including the couple, parents, and the wedding party. The Ganesh Pooja asks for the blessings for the couple and obstacles to be removed from their lives. Day two usually involves a henna or mehndi ceremony. The bride and her bridal party adorn their hands and feet with beautiful henna designs in floral and paisley patterns. Later in the second day is the Sangeet. Think of this as a rehearsal dinner in Western terms. The evening brings together families, wedding parties, and usually wedding guests for an evening filled with food, dancing, and colorful performances. The third and final day is the wedding ceremony and reception—a day filled with ritual, blending of families, and lots of colors.
3. The Bride Wears Red
Color is a huge part of Indian wedding celebrations, beginning with the bride. A majority of Indian brides wear brilliant red saris ornately adorned with gold thread and beading. However, everyone else from the groom to family and friends will typically be dressed in brightly colored, ornately decorated attire. So, don't hesitate to dress for the occasion!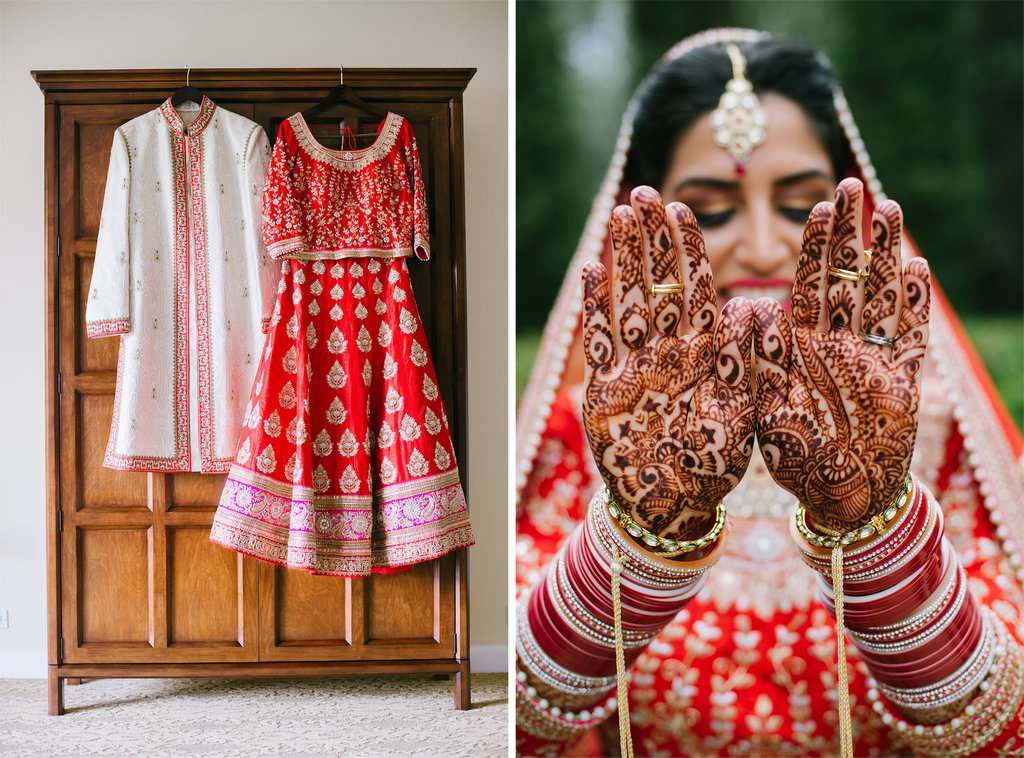 Photo courtesy: Jessica Kettle Photography
A few things to keep in mind regarding your attire. If you choose not to wear a sari for women or a long-sleeved tunic and pants for men, be sure to dress modestly. Wear clothing that covers your shoulders, legs, and in many cases, arms. While the bride wears red, she should be the only one. Additionally, white is a color for funerals, and black is considered unlucky.
4. The Groom Arrives on a White Horse
The groom's procession on the morning of his wedding may surprise you. The baraat is a procession where the groom arrives on the back of a beautifully decorated white horse. Traditional drums and a crowd of family and friends lead him to his introduction to the bride's family. The bride and groom exchange floral garlands showing their acceptance of one another. The bride's extended family, including aunts and uncles, will escort the groom to his place of honor to begin the wedding ceremony.
5. What's a Mandap?
The wedding ceremony takes place under a beautifully decorated canopy. It's very similar to a chuppah in a traditional Jewish wedding ceremony. The four pillars of the canopy represent the couple's parents.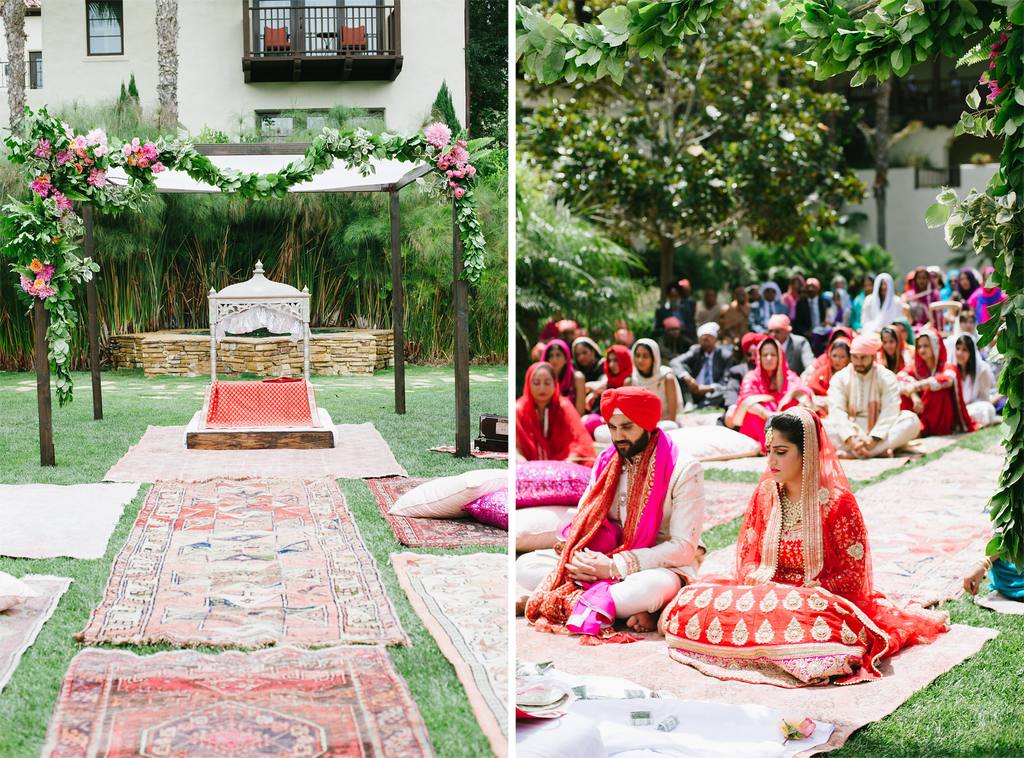 Photo courtesy: Jessica Kettle Photography
The bride is traditionally led to the mandap, where the groom is already seated and presented by her maternal uncle. The rituals that follow include: the parents giving the bride away, prayers for the couple, the couple binding themselves together with their scarves, and circling a ceremonial fire—taking seven steps vowing to love and support each other.
One significant difference that may come as a surprise to someone attending an Indian wedding ceremony for the first time is it tends to be a very communal event. You may hear people having conversations and moving in and out of the room. It's pretty common, so don't be offended, you may even see food served in the middle of the ceremony. In some cases, Indian ceremonies can be one and a half hours or, in other cases, up to three hours.
6. What's for Dinner?
This one part of the day may bring more fear to those not familiar with Indian weddings than anything else. A majority of Indian wedding receptions offer buffet food service, often with chefs preparing food at multiple stations. Surprisingly to many, not all Indian food is spicy, and not all Indian food is vegetarian. When in doubt, the service staff and chefs are happy to explain food items or guide you away from heavily spiced foods. You'll usually find mildly spiced rice dishes, flatbreads, and easily recognizable vegetable dishes. Expect foods like samosa, a pastry stuffed with seasoned potato, and pakora, a type of fried vegetable fritter. With Indian wedding receptions, the food is never-ending! You're likely to find a dozen or so appetizers, four to six entrees, rice, salads, bread, and a variety of condiments.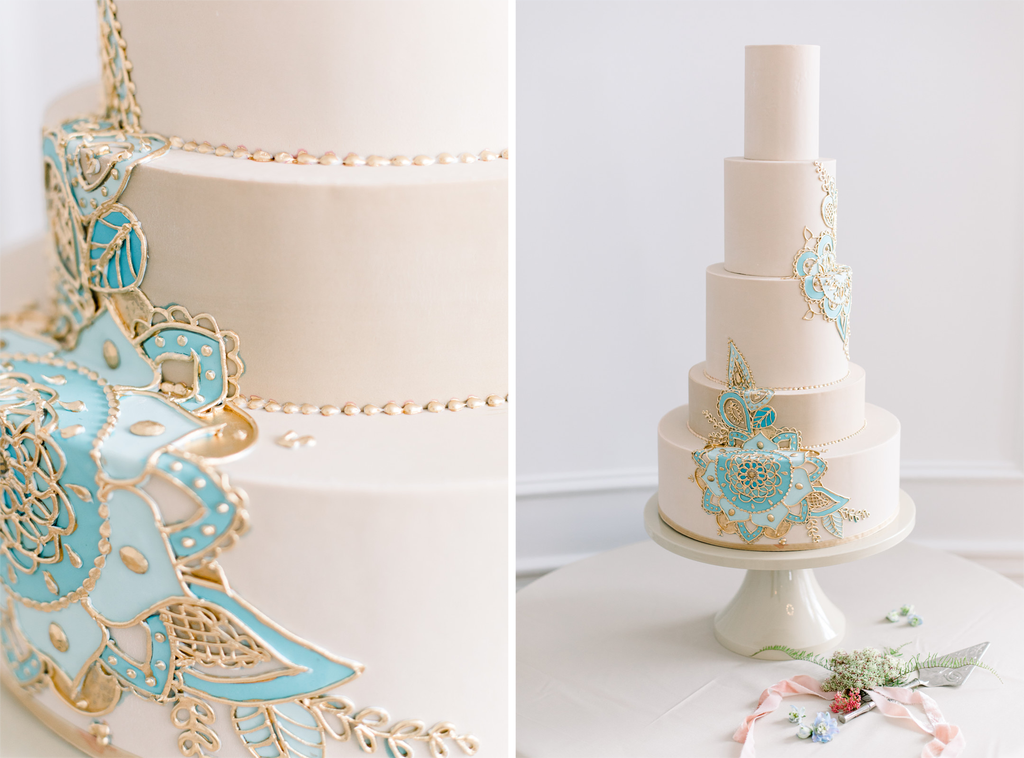 Photo courtesy: Annie Elizabeth Photography
The dessert itself is a huge affair. Traditional displays of cookies, sweets, and nuts often fill a table. More and more couples are also opting for an ornately decorated wedding cake. Usually, cakes follow the bright colors and henna designs found throughout the wedding.
7. Wedding Gifts
Wedding gifts are not traditionally brought to the wedding ceremony, so don't look for a gift table. Typically, wedding gifts are shipped to the couple's home. The exception to this rule will be to give the newlyweds a cash gift. In that case, it's appropriate to present them with an envelope.
Indian weddings are filled with dozens of beautiful and meaningful rituals and traditions. The good news for those attending their first Indian weddings is that most don't involve wedding guests. We're also seeing more and more modern couples creating detailed wedding programs that share the elements and beauty of the rituals with their friends and colleagues who are unfamiliar with the customs. So, go, have fun, and enjoy the traditions, beauty, and love of an Indian wedding.

Hero photo courtesy: Jessica Kettle Photography