With so much excitement surrounding weddings—and so much to keep track of—it's easy to sign contracts without giving them much more than a once-over. They are, after all, not quite as exciting as, say, cake-tasting or dress shopping. The problem with rushing through contract signing, though, is that if the contract isn't perfect, your Big Day won't be either. A simple typo can mean you end up getting yellow flowers instead of pink, or that your dessert bar vendor will be setting right in the background of your first dance. As lifelong wedding planners, we recommend lots (and lots) of caution and attention to detail when signing your vendor contracts. To help you on your planning journey, then, we've broken down all you need to know before offering up that John Hancock below.

Read it...Yes, the Entire Thing
We're starting with the simplest (but easiest to ignore) advice. While you may not read through that yoga studio contract or that piece of paper you signed last week after AAA replaced your car battery, wedding contracts are the one contract you most definitely need to take the time to read through. With so many details to get right (or wrong), don't let a single word slip by. You'll want to take time to sit down and read each and every vendor contract from start to finish. Look for typos, double- and triple-check dates and times, and be sure everything you've discussed in person is included in the contract.

Pay Attention to Timing
You don't want your dessert bar being set up right behind you and your new spouse as you have your first dance. While many couples pay attention to the date on contracts, few pay attention to set-up times. Discuss timing with your vendors. This can get tricky, especially if vendors are repurposing florals or decor from your ceremony for your reception. We recommend hiring a professional planner to ensure all of the moving parts coordinate, rather than clash. The flow of your wedding should feel effortless, and guests should never get a peek behind the curtain—scheduling proper vendor setup times is key for making both of these things happen.

Look for Red Flags
If you notice a clause that prohibits you from reviewing a company after you've used their services, that's an automatic red flag—and we recommend not signing that contract. You have every right to review a company. A company that wants you to sign that right away on the dotted line is probably used to poor reviews.

Other red flags include a lengthy/extreme cancellation-fee period: In general, cancelling 60 days or less prior to the wedding is the acceptable timeframe for having to pay the full price. If you notice a contract requires full payment if you cancel less than, say, 120 days prior to the wedding, that's an extreme cancellation clause and you'll want to work with the vendor to get a better cancellation policy. Engaged couples often neglect paying attention to cancellation fees because they're in love and they obviously don't foresee breaking up in their future—but remember, weddings get cancelled because of tons of unforeseeable causes that don't include a breakup (a sick family member, a sudden out-of-state move, an unexpected career change, etc.). You never know what life will throw your way—so pay close attention to cancellation clauses, even if you don't think they'll affect you.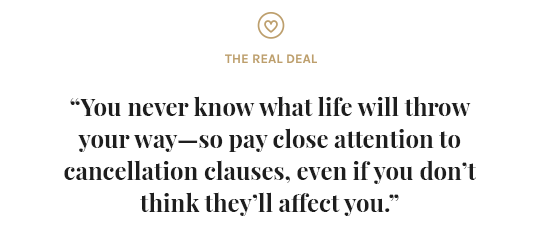 Get Everything in Writing
Wedding vendors adore their clients—but the truth is, they have TONS of things going on. Although a good wedding vendor will make you feel as though yours is the only wedding they have on their books, that's not the case at all. This means you need to be absolutely diligent about getting anything you agree on in person with your vendors in writing.

Maybe your florist agreed to throw in an extra flower crown for free, or maybe your venue agreed to serve a special bottle of champagne at your cocktail hour for no corkage fee. Or, maybe your photographer initially only agreed to four hours, but you've since added on two extra hours. Don't ever let a vendor tell you, "Oh, no problem—I'll remember that!" or "Don't worry—I'll fix that after you sign the contract!" With so many things going on, chances are they won't remember. It's your responsibility to get everything in writing prior to signing. What you sign is what you get—so be what you're signing describes to a T what it is you've actually agreed upon.

Look for Additional Costs & Fees
Pay attention to taxes, fees, and gratuities. When it comes to pricing, you want your final contract to be as close to exact as possible. If your contract doesn't include exact taxes, but has a phrase like "plus taxes" or "plus tax amount determined upon purchase," do you research and figure out what those taxes will add up to. Taxes on big-ticket items, like catering and floral, can end up being a hefty chunk of your budget. Remember that taxes vary state-to-state as well, so you'll want to double-check tax policies if you're using an out-of-state vendor or throwing a destination wedding. Gratuity is also one to watch for—some vendors will include it (as either "gratuity" or a "service fee"), while others will not. You should always tip your wedding vendors, so you'll want to include this in your initial budget.

Other common fees include things like a "setup" or "tear-down" fee. There are also vendors—like florists, for example—who will charge a fee if their items (i.e. vases, votives, etc.) aren't returned by a certain time. If your florist wants everything returned by midnight on your wedding day, you'll want to be sure you have at least a month-of coordinator who can help with tear-down and who you trust to get vendors their materials on time, so that you and your fiancé don't have to worry about that on your wedding night.

Understand Vendor Meals & Accommodations
Vendor meals are something not many engaged couples think about—but, with weddings being lengthy events, it's proper etiquette to feed your vendors. Many vendors will include this requirement in their contract. Venues typically offer a vendor-meal option, which costs less than your actual per-person plate for your regular wedding guests. Be sure to count ahead of time how many vendor meals you'll need to provide, and make sure your caterer is aware of this number. Other accommodations vendors may include in a contract can include travel, airfare and/or hotel fees if they're traveling from out of town.

Find Out Exactly What and Who You Get
As simple as this one may seem, it's a step many engaged couples neglect. You'll want a clear answer from every vendor about what exactly is included in your contract. For example, does your photography contract include a second-shooter and/or a photo album or print? If so, how many pages is that album and what's the quality like? Does your makeup contract include touch-ups after the ceremony or will you have to pay extra for an artist to stay around?

You'll also want to find out who will be showing up on the day of your wedding. The person you have your initial meetings with often isn't the same person who shows up on your wedding day. Vendor selections are such personal choices for couples—and the decision between two seemingly equal vendors is often made based on who a couple "clicked" with most. If you're choosing a certain photographer or florist based on a personal connection, you don't want to end up disappointed if she sends one of her employees or team members to shoot your wedding instead.

Take Your Time...But Not Too Much
While you want to spend time reading over and perfecting your contract, you also want to be aware that the best vendors have tons of couples nipping at their savvy, sought-after heels. Stay in communication with your vendors while you look over their contract and let them know how long they can expect to wait before getting the returned, signed contract from you. Some vendors may be willing to hold your date for a certain number of days while you look over your contract, while others won't—so if a quicker-to-sign couple happens to want your wedding date while you're taking time looking over the contract, they might just snag your spot. Remember, though, a vendor should never make you feel rushed or pressured. You should be allotted a reasonable amount of time to look over the contract and feel comfortable with its content—but not so long that the vendor is forced to give up your wedding date to someone else.

Photography by Jen Wojcik Photography