You're officially engaged—congrats! The next step? Oh, you know—just planning a large-scale event for all of your closest friends and family that you'll remember for an entire lifetime. No big deal, right? Exactly. Dipping your toes in the wedding-planning pool can be a bit overwhelming to say the least. With guest-lists to manage, invitations to send, and decisions to make on everything from decor to dessert, knowing where to get started planning a wedding can be beyond difficult. But, not to fear engaged friends—today we've tapped the expertise of husband-wife duo Aleah and Nick of Valley & Co. Events to talk their top tips for where to get started with wedding planning. Read on for their expert advice! (And don't forget to check out our piece on 10 Wedding Planning Tips No One Tells You when you're done!)
What's the absolute first thing a newly engaged couple should do?

There are so many wonderful emotions that pop up when a couple is freshly engaged. Just taking a moment to soak in the excitement should top a couple's list for what to do first. There is no need to rush on settling on a date or location a week after the engagement. Enjoy the moment and share that moment with family and friends before you start to dream up your plans. Taking that approach will give you time to sit back and think about what kind of wedding you both would like to have.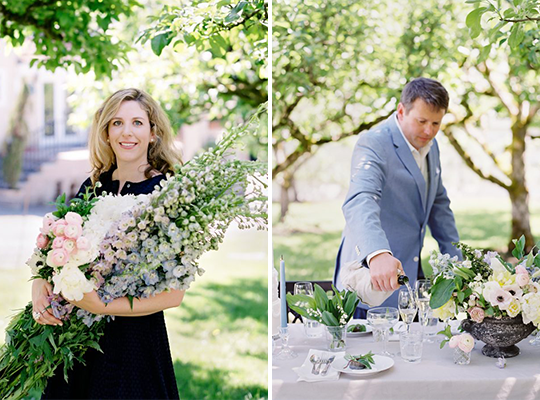 Photo courtesy O'Malley Photographers
Who are the first wedding vendors a couple should look at booking?

Finding a wedding planning team first is always our unbiased answer. A seasoned planner will help you weigh the benefits of a date and location, and quickly help you pare down a list of properties based on your criteria (guest count, aesthetic desired, time of year, and per-guest budget). We recommend scooping up your photographer and videographer as well as entertainment just as soon as you lock in the date. Any artist who provides a service and can't be in two places (meaning two weddings) on the same day should be booked as soon as you can so you get your top choices. If you have a photographer whose work you fell in love with before you were even engaged, talk to them before booking a venue to check their availability.
What are the first conversations a couple should have about planning their wedding?

When a couple first embarks on their wedding planning adventure, we recommend they have a conversation about the overall vision for their wedding weekend festivities. Thinking about your wedding from the guest standpoint can be helpful to polish the entire vision—where do you want them to stay, what are the feelings you want your guests to experience when they arrive at your wedding and when they leave? We treat our weddings like true experiences that tell the stories of our couples, and encourage them to think about each chapter—like what guests will see and experience upon arrival, during the ceremony, through happy hour, and into dinner and the dancing festivities. What will the moments feel like and look like? All of those chapters can help a couple get specific about their goals for the wedding.
CONTRIBUTORS