As wedding planners, we've seen it all (and we really mean it all) when it comes to high-stress wedding planning. From family members who don't want to sit next to one another to vendors who don't deliver as expected to dresses that won't zip seconds before a bride walks down the aisle, there are countless dilemmas and endless drama to account for when planning your wedding—but, with a few simple steps in place, it doesn't have to be that way. Below, we've outlined the top three pieces of advice we give to engaged couples looking to plan their first-ever event.

1. Set Expectations from the Get-Go
This is the number-one piece of advice we give brides and grooms. What you do the first day of wedding planning sets a precedent for all of the days to come. Don't want your overzealous, opinionated aunt involved in the process? Don't take her dress shopping with you. Want to ensure your vendors show up at a certain time? Communicate this clearly from the beginning. Being wishy-washy or indecisive is a recipe for disaster when it comes to wedding planning. From setting a realistic budget to setting clear expectations with those around you, the absolute best first step you can take when wedding planning is laying a solid foundation for the rest of the planning process, rather than making things up as you go. Be clear in your communication from the very beginning, so those around you know what you expect and can help make it happen.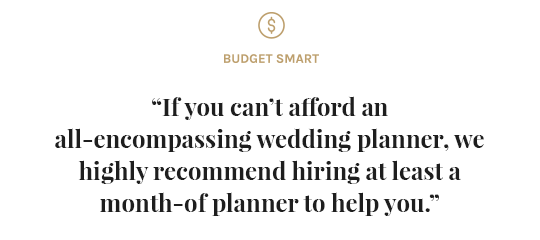 2. Talk About Hiring a Wedding Planner
When couples are on a tight budget, they often assume the best way to save money is to not hire a planner. After all, how hard can it be to gather a few flowers and set a few place-cards on the day-of? The answer is very: it can be extremely difficult (if not impossible) to plan and execute a seamless, stunning event all on your own if you're not an event-planning professional. Consider setup and tear-down: who will be around to take care of these things while you're getting ready or dancing the night away? Do you really want to task your mom or bridesmaids with ensuring an entire large-scale affair goes off without a hitch? Who will ensure the vendors are there setting up on time and in the right place? Who will direct the wedding party at the rehearsal dinner? Who will have a few tiny magnets in their bag to hold down your veil in the unexpected windstorm? Wedding planners think of everything—and, as a result, are prepared for everything. Keep in mind you'll also have a handful of vendors who charge you if their pieces (i.e. vases and votives from a florist, tables and chairs from a rental company, etc.) aren't returned by a certain hour—you don't want to overlook this and incur serious charges as a result.

If you can't afford an all-encompassing wedding planner, we highly recommend hiring at least a month-of planner to help you: find the best vendors in your area (planners know which vendors will deliver on time versus which won't), find savings you otherwise wouldn't (planners are great at cutting deals with vendors they're friendly with), handle all day-of logistics (setup, tear down, vendor management), and most importantly, put out last-minute fires and handle day-of emergencies as they arise (and we can promise you there will be at least one).

3. Use Aisle Planner to Stay Organized
From seating charts to timelines to contracts, weddings come with a ton of moving pieces to keep track of, which is why having simple, accessible, affordable software is absolutely key in the planning process—whether you're a professional planner or an engaged couple tackling event planning for the very first time. Aisle Planner's wedding planning tools allow you to access all of your wedding information from anywhere, and it helps to keep conversations and communication organized, so you don't have to spend time rifling through old texts or emails.

Overall, successful wedding planning comes from a combination of three things: being proactive, working with a professional, and using a platform that can keep you organized throughout the process. With some serious expectation-setting and the right people and tools to help you along the way, it can be one of the most fun, rewarding and memorable experiences of you and your fiancé's lives.

Photo courtesy wedding photographer Jake & Necia